Materials of Construction
Body
Polyethylene
Polyethylene
Ball
Acetal
Polyethylene
Seat Retainer
Acetal
Polyethylene
Stem
Stainless Steel
Acetal
Stem Seal
Buna N
Buna N
Ground Water Seal
Neoprene
Neoprene
Wrench Adapter
Acetal
Polypropylene*
Adapter Screw
Stainless Steel
Adapter Button
Acetal
* Note: 12" has gear box and cast iron 2" square nut adaptor.
8" will have a choice of either gearing or wrench.
1½" and 2" C-style is Reduced Bore only.
Available in copper tubing standard size (CTS).
Codes and Standards
Polyvalve Poly-Gas® valves meet or exceed the requirements of:

ANSI B16.40
ASTM D-2513
U.S. Department of Transportation 49CFR, Part 192

In addition, as required by customers, certain sizes and materials of valves meet or exceed the requirements of CSA B137.0 and B137.4
Certain Polyvalve Poly-Gas® valves have successfully passed 10,000-hour tests to ISO 4437
Polyvalve is an ISO 9001 certified company.
Body Materials Chart
CP Chem
TR-418 (D6500)
Yellow
PE 2708/2406
Medium
Dow
DGDA 2490 (UAC3700)
Black
PE 4710/3408
High
Note: Other materials available - contact factory. On 8" full bore and 12" full bore only the main body section is in DGDA 2490 material. Different pipe ends are fused on to suit customer's specific material requirements.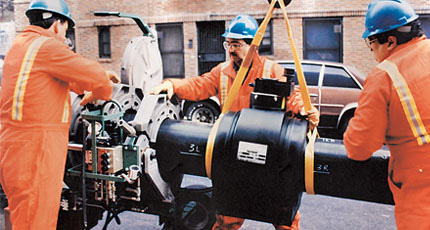 12" Poly-Gas® valve fusion operation
Applications
For use in:
Natural gas distribution
Natural gas gathering
Landfill gas (methane)
Hydrocarbon fuel gases
Hydrogen
Air
Other inert gases (helium, argon, neon)